Started cleaning my 1/18's that I have on display.  Ashamed to say how long it's been since they were cleaned.  There are some so dirty, it's hard to tell the original color.  Since I'm "frugal" now days, my windows are up for quite a few months out of the year.  These 3 Cudas and 1 Dodge Challenger are the first 4 I've cleaned.  Only 131 more to go.  Sadly, I have over 200 more packed away, most of which I haven't laid eyes on in around 15 years.  Have to have a lot of room to display that many 1/18's and I just don't have it.  I've planed for years to close my garage in so I would have the room.  To the point now I just need to get rid of them.  Anyway...
First is an Ertl 1970 AAR Barracuda in Vitamin C (Go Mango on a Challenger) from back when they were only $19 and TRU had an entire isle devoted to 1/18.  Those were the days.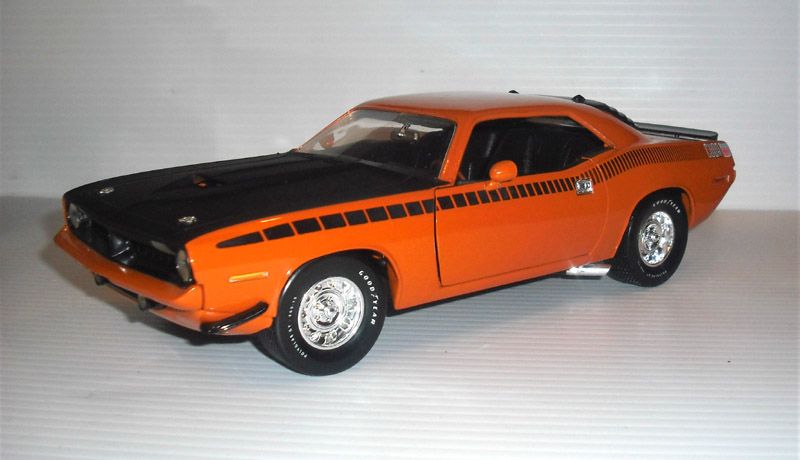 Next is an Ertl 1970 Hemi Cuda in Moulin Rouge (Panther Pink on a Challenger)
Next is a Supercars/Highway 61 AAR Barracuda in Lemon Twist (Top Banana on a Challenger)  If you've never seen any Highway 61 in person, they are really nice.  Vinyl seats, carpeting, real hood pins (don't drop one) drive shaft rotates, radio aerial goes up and down.  A real upgrade over the Ertl's are the tires and wheels which are MUCH more authentic.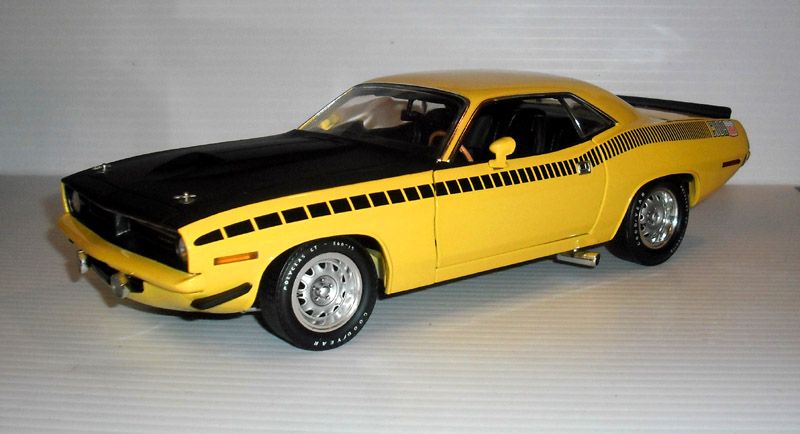 Next is a Highway 61 1970 Dodge Challenger T/A in black.  There was no fancy name for black, just plain black.  When I got my Highway 61's years ago, they were reasonably priced.  The two I have shown here are two of the harder ones to find now.  Prices on ebay for these two are 3 to 4 times more than when they were released.  And yes, it's tempting to sell at those prices. 
These are the license plates on them.  They didn't put them on very straight.